Steinel 180-2 Motion Detector
Check out our article on the Steinel 180-2 Motion Detector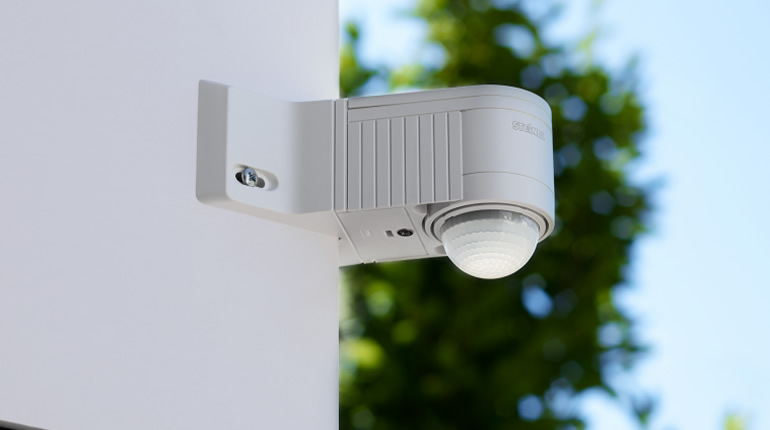 The Steinel 180-2 is an intelligent unit which uses an infrared motion sensor which is ideal for monitoring larger properties and outdoor spaces. Typically used in front of a house on the driveway, or in gardens or courtyards. This is a slim unit which can be pretty much mounted anywhere with the included corner wall mount bracket. The Steinel 180-2 Motion Detector combines the latest sensor technology with a modern design and is equipped with two highly sensitive infrared detectors which can offer reliable protection of areas as large as 200 square metres.
The sensor unit is suitable for both outdoor and indoor use, but unless you have a truly palatial home or are using the sensor to protect a large warehouse or extremely long corridors, this motion detector is probably overkill for most properties if used indoors. But for the front of large buildings or for homes with large driveways and courtyards, the Steinel IS 180-2 Motion Detector is ideal.
The range of the Steinel 180-2 can be set to a maximum of 12m or 5m by adjusting the multi lens and the device comes with included shrouds which can be used to limit the detection zone and match it perfectly to your specific detection needs. The time and twilight threshold can also be infinitely varied using control dials.
The "180" part of the model name alludes to the fact that this device has a whopping 180 degree passive infrared viewing window with a maximum 12m reach. The two highly sensitive infrared detectors are positioned at a specific angle to each other to offer uninterrupted all-round protection of large outdoor areas as well as long corridors or large basements.
The Steinel IS 180-2 Motion Detector is quite expensive but well worth the money as thanks to the huge possible coverage, this single unit can do the job of several less expensive motion detectors. The fixing instructions are very clear and it is easy to mount. The shrouds that are included are a nice touch too, enabling you to effectively customise the protection, ignoring movement in certain areas to avoid false alerts but giving full protection to other areas. More expensive than competing detectors but good value for money thanks to the size of area that can be protected and the Steinel brand name also gives the expectation the device will last longer and perform better than cheaper products.