ProSensor 710 Franklin Precision Stud Finder
Check out our article on the ProSensor 710 Franklin Precision Stud Finder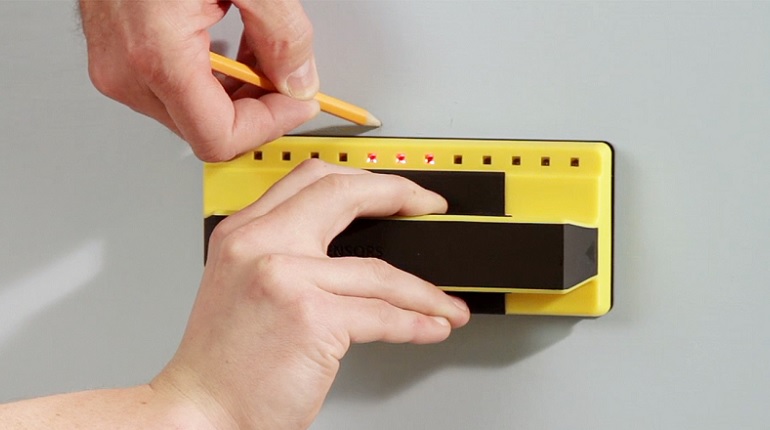 The ProSensor 710 is a professional grade stud detector from Franklin Sensors that is claimed to be more accurate, faster and less error prone than competing products on the market. The ProSensor 710 Precision Stud Finder can sense the wall in up to thirteen locations simultaneously using 13 individual sensors then use the data to illuminate the display elements that are in front of a stud. This stud finder couldn't be easier to use, just press the button then place on the wall and wait for the LED lights to indicate the location of all studs!
The ProSensor 710 analyses and triangulates the data from all 13 sensors to provide an accurate and precise location for each stud, along with the width of each stud. A larger pad area also helps with scanning on walls which are curved or have rough textures, which means less sliding/moving of the stud finder is required.
Almost any stud finders will work well in a demonstration on a perfectly flat show display with no texturing. However, many same stud finders will struggle when faced with real-world surface irregularities. Most stud finders will become confused with uneven surfaces but the ProSensor 710 is much less vulnerable to these surface irregularities as the sensor can sense the wall in multiple locations and uses readings from several points on the wall to determine the stud position. The ProSensor 710 forms an image of the wall based upon these multiple readings which is the main reason why the ProSensor 710 is one of the most accurate stud finder on the market in the UK today.
Conventional stud finders require the user to slide the finder back and forth across the wall and some units will require multiple swipes until the finder becomes tuned into the wall and can detect studs with some accuracy. But the ProSensor 710 Precision Stud Finder doesn't suffer from any of these problems. Simply place the ProSensor 710 on the wall and press the button to instantly see the location of any hidden objects such as studs or beams. The ProSensor 710 instantly self-tunes and calibrates to any wall without sliding, which means it is much easier to use, especially on larger projects or DIY jobs.
At less than £100 the Franklin Sensors ProSensor 710 is a good buy. Easy to use and very compact (17.8cm x 7.6cm x 5.1 cm), the 710 model runs on 2 standard AA batteries and offers accurate location of almost all hidden objects.