Metal Detectors
Check out our article on the best metal detectors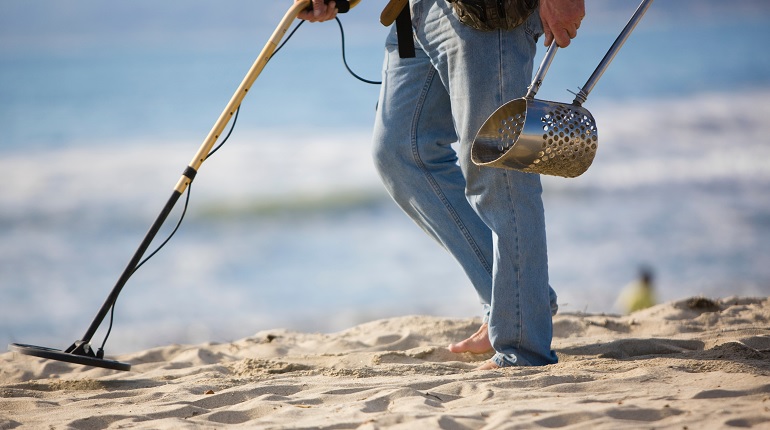 Essentially a metal detector has three main component parts; the coil, the control box and the handle/chassis on which the coil and box are mounted. The coil has a plastic circular head for protection and is located at the base of the unit. Inside the plastic cover are two elements, one each for transmission and receiving. The control box contains the electronics which interpret the information from the coils and relay this to the operator. You can also buy scruff covers as additional protection for the coils and waterproof covers to protect the control box.
Earphones are not essential but it is much easier to hear and interpret signals using them. When the metal detector is in use the transmitter sends out a magnetic field through one coil which penetrates the ground. When this field encounters a metal object, that object will itself becomes magnetically charged. Then the magnetic field of this newly magnetised object can be detected by the sensitive receiver in the second coil which in turn will send a detection signal to the control box so the operator can be alerted via an audible warning and/or a visual display.
The type of metal detector you should buy will depend very much on the intended use. For example, if you are of slight frame or the detector is a present for a child, then a lightweight system will be a priority. The area you will be searching most often is important too, if detecting on beaches or riverbanks then very few machines will work well in wet sand, whereas most will be fine on dry sand/mud. Budget is always important, but there is no need to buy the most expensive units if you are a beginner. An initial budget of around £250 to £500 will get you a very good metal detector, but if you are concerned about bragging rights, £500 will get you all the capability you will ever really need. Whatever your intentions or budget, you should always look out for quality brand names when making your choice, stick to brands such as Deeptech, Tesoro, Garrett, XP, Minelab, Whites or Laser.
More expensive detectors will have bigger coils, but this does not always translate to being able to find deeper objects, but it does mean better ground coverage. You can test machines in the air with coins to see what the detection range is, then half that distance to get the typical maximum detection depth in soil. Metal detectors priced at £1000 and over are available, but these tend to have more "bells and whistles" or be more attractive in design, rather than offering better detection capabilities. Though there are some new models with huge coils which can offer greatly enhanced detection depth.
But always be wary of new, cheap metal detector models which promise surprisingly good detection depths and other advanced features for a ridiculously low price. New models are launched all the time, most of which are just basic redesigns of older models and built in China to reduce costs, stick to models which are tried and tested with a good pedigree and reputation from manufacturers you can trust (even though many of these may also be made in China, their designs and technology are much superior!)
Our favourite
metal, gold & diamond detectors
If searching for gold and diamond jewellery is your plan, then there are models which are specifically designed for gold detecting. These metal detectors tuned to the frequencies for finding gold and are available in two types: VLF (Very Low Frequency) and PI (Pulse Induction). Both detector types can effectively find gold nuggets but the VLF type detectors discriminate more effectively so that less digging is necessary due to false detections. PI detectors on the other hand have increased depth of detection and work better on ground with a high concentration of minerals.
XP ADX150 Metal Detector
One of the best metal detectors available is the XP ADX150 Metal Detector with 9" Coil. Costing £300-£350, the XP ADX 150 features the very latest technology with unparalleled performance and all the great features from the super popular ADX 100 model. The ADX 150 is wireless ready, featuring a headphone transceiver hard-wired into the circuit board so can be used with cordless headphones. The ADX150 combines ease of use with incredible performance, yet is very lightweight and suitable for all ages. The unit is very robust so should offer many years of service, plus it is compatible with the range of interchangeable XP coils.
The ADX150 has a Wide Scan 9 inch waterproof coil with cover plus a tough polypropylene armrest. Total unit length is adjustable between 44 and 53 inches and it weighs just 1.4 kg. XP offer a class leading 5 year warranty on this awesome detector - highly recommended!
Garrett ACE 150 Metal Detector
If you are not sure about metal detecting as a hobby and are just looking for a budget detector to try it out, then for under £180 you can get the basic but useful Garrett ACE 150 model. This cheap metal detector is one of the most popular in the UK thanks to offering a great compromise between price and performance. The Garrett ACE 150 features discrimination, graphic target ID with LCD meter, and touch & go technology. With both visual and audio target identification, the Garrett ACE 150 is easier to use and offers decent accuracy for the price.
There is also sensitivity control, 3 pre-set detection modes and the advanced LCD graphic screen for easy identification of the target. The Ace 150 is ultra light to use and offers a coin depth indicator, which can be a really useful feature. However, for anyone who is serious about metal detection, they will quickly outgrow the Garrett ACE 150 and will find the unit frustrating. That being said, at this price point you cannot really complain! This detector is a great way to dip your toes in the water and find out if metal detecting is really for you, or not! Plus it makes a great gift for someone looking for a new hobby.