Precision Sensors Profinder 5000
Check out our article on the Precision Sensor Stud Finder Professional Deep Scanning LED Profinder 5000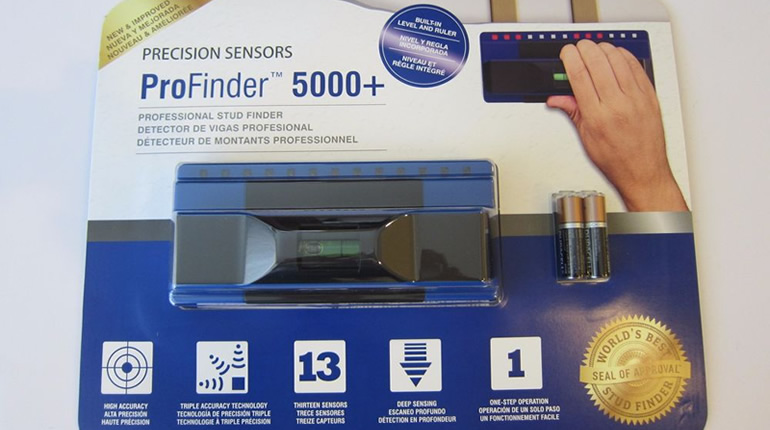 The Profinder 5000 instantly detects wood, metal, and other objects hidden beneath the surface while keeping an eye on the LED lights. The Precision Sensors Stud Finder 5000 has a larger sensor pad area than more conventional stud finders to help it detect more accurately and in multiple locations simultaneously. The Precision Sensors LED Profinder 5000 doesn't look like other stud findersa nd works in a slightly different way. Rather than detecting studs using a single narrow sensor, the Precision Sensors Profinder 5000 scans the wall along its entire width and uses a series of LED's to light up and show the stud location. In fact, this device can even detect multiple studs at the same time whether wood or metal and up to 30mm depth.
Once the Profinder 5000 is activated, you don't need to be touching the wall when the sensor is turned on, just slide the Profinder 5000 along the wall to find the studs. The Profinder 5000 has innovative sensor technology that quickly finds hidden studs even without sliding/moving the detector in mny cases. This advanced stud finder senses the wall in up to thirteen locations at the same time then illuminates the display elements in front of the studs. The Precision Sensors Profinder 5000 is less error prone and more accurate than many similarly priced products on the market. Quickly detecting wood, metal and other hidden objects simultaneously. The stud finder features always-on deep scanning which identifies the location and width of hidden objects in multiple locations simultaneously. The unit also has a soft grip which remains comfortable after many hours of use.
This unit is small enough to fit in a jacket pocket (180mm x 75mm x 48mm) and weighs just 6 ounces, so takes up next to no room in a toolbox and is easily packed. Powered by 2 AA Batteries, the Precision Sensors Stud Finder 5000 works well through many different types of materials and surfaces including curved surfaces, textured walls and acoustic ceilings, lath & plaster, tiles and other textured materials. Though foil backed wallpaper and plaster with mesh reinforcement will cause problems, this is not a concern with just this unit of course, as all stud detectors have trouble penetrating metal backed materials.
Another great product from Precision Sensors, competitively priced at just over £100, this is an excellent buy for any DIY enthusiast.