Nest Protect Smoke & Carbon Monoxide Alarm
Check out our article on the Nest Protect Smoke & Carbon Monoxide Alarm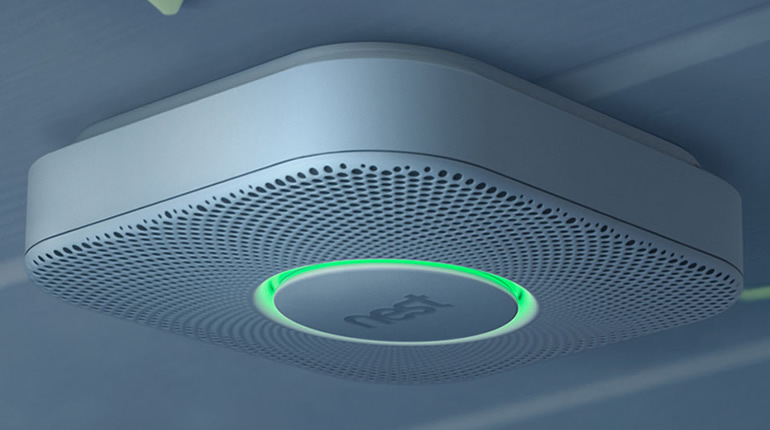 Nest Protect is an industrial-grade smoke sensor that has been redesigned from the inside out. This is a high-tech smoke detector, which can be silenced from your phone, tests itself automatically up to 400 times per day and like the original Nest Protect, can let you know about any problems by sending an alert to your smartphone. More importantly, this is a smoke detector which can also detect dangerous carbon monoxide for your safety. Don't settle for inferior smoke detectors, the Nest Protect can sense smoke and carbon monoxide, alert your phone when something is wrong, and even light your way when you get home at night!
In addition to the advanced communication features, the Nest Protect also has a Steam Check function, so a nice shower will simply relax you instead of turning into a major drama causing your alarm to shout at you! Plus as you walk underneath the Nest Protect sensor at night, Pathlight will automatically light your way. The new Split-Spectrum Sensor in the Nest Protect c senses both fast and slow-burning fires, so will detect smoke particles of all sizes. Plus the carbon monoxide sensor can alert you when poisonous and invisible CO is found. Nest Protects are so clever they all speak up at the same time to let you know something is wrong and exactly where the problem is.
If you are fed up of being jolted awake in the middle of the night by a low-battery chirp from your conventional smoke detector, then you will be pleasantly surprised with the Nest Protect, as this detector is far too clever to wake you, it will in fact show you that everything is OK before you fall asleep with the Nightly Promise feature - a soothing green glow when you turn off the lights means that the batteries are working perfectly for sweet dreams. If you do manage to fool the Nest Protect by burning the toast, you can easily silence it via the smartphone app, no more standing on a chair and waving dish towels around like a crazy person!
Nest Protect can be easily set-up to work with your Nest Thermostat and Nest Cam. So if the Nest Protect sounds the alarm due to sensing carbon monoxide or smoke, it will automatically shut down your boiler as this is the most common source of carbon monoxide and can also spread smoke around the home if there's a fire. At the same time the Nest Cam can record a clip while the alarm is going sounding so that you can later see exactly what happened!