Cable & Pipe Detectors
Check out our article on the best cable, wire and pipe detectors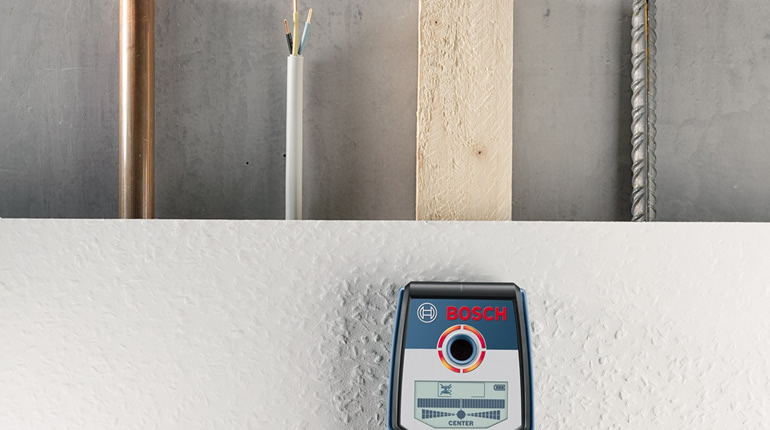 Cable & pipe detectors are used for finding hidden elements beneath the surface of a wall. The simplest and cheapest models simply detect electric currents, so are fine for finding wiring. More expensive models can detect all metallic objects or even sense areas of greater density. Whereas higher end scanners can even detect plastic piping!
If you are considering drilling into a walls surface, this work will be much safer if you use a detector! If you drill into a wall without a good idea of what is beneath the surface, then you run the risk of electrocution or burst pipes. Plus if you are mounting a heavy object on the wall, this will be much more likely to stay in place if you drill into the centre of a stud, rather than just making a hole through plaster. Investing in a wire and pipe detector is a good idea for anyone who regularly does DIY jobs or plans on renovating, this one purchase could not only make any DIY jobs much safer, it can also save a lot of unnecessary hassle and time, ensuring you drill in the right place, first time, every time.
There are far too may accidents which occur in the home relating to DIY or home improvement jobs, one very common mishap is drilling into pipes or cables which are buried in the walls. Drilling into a water pipe can lead to a serious water leak and expensive damage plus plumbing bills. But drilling into an electrical cable can have much more serious consequences including a potentially fatal electric shock. The best way to avoid problems is to know where all the pipes and cables are so you can avoid drilling into them! This is where pipe and cable detectors come in handy, finding the metal beneath the surface and any live electrical currents - before you start drilling!
Devices which are simple metal detectors and can locate electrical wiring and metal pipework can be bought for under £20, but you need more expensive models to find wires, cables, joists and stud work as well as pipes made from plastic or non-ferrous metals. Higher end models will also show if any electrical wiring is live and can even display the voltage!
These detectors are not too expensive, £60 to £70 will buy a model which has all the functions you will need and this small investment could make the difference between a quick job and an expensive mistake! These devices are simple to use too, you just pass the detector over the area you are planning on cutting or drilling into, then check for any warnings. Some units will even tell you how deep the pipe or cable is and allow you to trace them using an LCD screen. The best practice when pipes/cables are detected is to mark them on the wall in pencil so you can avoid the area.
However, no matter how good the detector is, always assume the worst, so even if using a top of the range cable & pipe detector, turn of water and power before cutting or drilling into walls or floors.
Our favourite
cable wire and pipe detectors
Bosch GMS 120 Professional Detector
One of the best cable & pipe detectors on sale right now is the Bosch GMS 120 Professional Detector. For under £75 you get a reliable and capable unit which can detect objects up to a depth of 12cm and has a 2 year guarantee as standard. The Bosch GMS 120 features automatic calibration and has an easy to use illuminated three-colour LED luminous ring display. The GMS 120 Professional offers three detection modes: drywall mode, metal mode and live cable mode and is powered by a single 9V block battery (included).
The Bosch GMS 120 Professional can detect ferrous metals up to a depth of 12cm, non-ferrous metals up to 8cm deep, and live wires up to 5cm depth. But in addition it can be used to locate solid wooden sub-constructions up to a depth of 3.8cm - so is perfect for hanging shelves or other items in stud walls, allowing you to locate the stud for a secure mounting.
Bosch PMD 7 Multi Detector
If on a tight budget, the Bosch PMD 7 Multi Detector is almost as good but has a much more attractive price of around £30! The PMD 7 Multi Detector will help you to check it's safe to drill before doing so, locating live electrical cables as well as ferrous and non-ferrous metal piping. Like other Bosch detectors, this model features automatic calibration so is really easy to use. Simply switch it on and its ready for detection, live electrical cables or metal pipes when detected can be easily seen via the LED traffic light display system and audible warning signal.
The Bosch PMD 7 is a compact unit measuring 144mm x 60mm x 30mm so fits easily into a jacket or trouser pocket. The device also features a marking aid to mark out a safe spot to drill and has a soft grip so is comfortable to hold. With the exception of stud detection, it has everything you will find on the more expensive detectors, though the maximum detection depth is lower than more expensive units at around 7cm, so perhaps not the best device for thicker walls with lots of plaster.
The LED traffic light system on the Bosch PMD 7 Multi Detector is worthy of special mention as it is really simple to use – in fact it puts many more expensive devices to shame as they often need a lot of practice and are not particularly intuitive to use. But the PMD 7 detector is so easy anyone can use it straight out of the box! When the LED light is green then there are no detected materials so it's safe to drill. When the LED light is amber a material has been detected nearby so use extreme caution when drilling or cutting. When the LED light is red do not to drill as there's a detection material located in the wall right at that point. Simple!