Bosch GMS120 Multiscanner
Check out our article on the Bosch GMS120 Multiscanner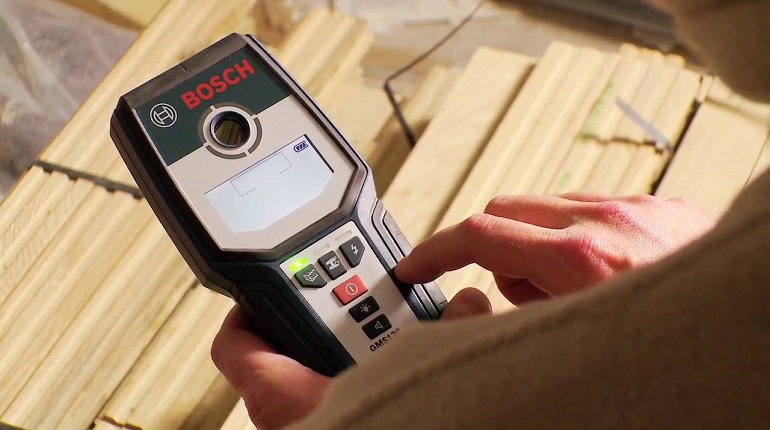 The Bosch GMS120 Multiscanner offers multi-mode detection of wood studs, metal objects such as rebar or copper pipes and live electrical wiring. With a wide range of detection performance up to 120mm deep in concrete using the latest three sensor technology. Three selection modes are available: Wood, Metal and AC Wiring. Plus the GMS120 features automatic calibration for easy and precise detection using the clear illuminated LCD Display.
Bosch machines have a reputation for being best in class, especially when it comes to these small hand held detectors, though this particular model is certainly not a class leader and there are plenty of better options on the market. On the plus side, Bosch do offer a standard 1 year warranty from date of purchase which can be extended to a 3 year warranty for this professional blue measuring instrument. All you need to do is register your scanner online within 4 weeks of purchase and the 3 year warranty begins on the date of purchase. So at least this detector is likely to be reliable, even if not the best performer in its class!
Standard features include detection even of deep-lying objects up to 12cm, useful detection indicator in the form of a three-colour LED luminous ring, pinpoint indication of the stud centre using included "Centre Finder" scale, enhanced visibility thanks to illuminated display and a marking hole with LED luminous ring. maximum claimed detection depth for steel is 120mm, for copper 80mm, live cables 50mm and wooden studs 38mm. The unit is compact measuring 200mm x 85mm x 32mm, but slightly heavier than competitors at 270g.
For a detector which costs in the region of £70 and coming from a reputable company such as Bosch, this tool is a bit disappointing with detection being a bit "hit and miss". On paper the performance and features look great, but during real life testing, the actual performance of the GMS120 was a bit lacklustre. Most of the time the scanner is good for picking up wooden joists, cables, metal, and electrical cables. There is no sensitivity adjustment on this scanner which is annoying, as moving it away from the wall doesn't really help and just seems to make it more inaccurate. But sometimes the results can be unreliable and inconsistent. Not a bad product by any means, just not nearly as good as you would expect from Bosch at this price point.