Garrett Ace 250 Metal Detector
Check out our article on the Garrett Ace 250 Metal Detector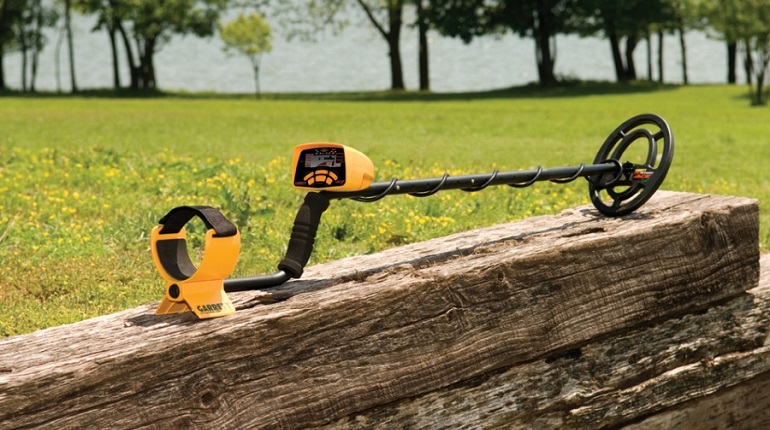 The Garrett Ace 250 is one of the UK's most popular metal detectors, thanks to the fact it offers good value for money and decent performance for the price. The Ace 250 features full range notch discrimination, graphic target ID, a pinpoint feature and touch & go technology. The Garrett Ace 250 also has a graphic target ID cursor with 12 element notch discrimination for greater accuracy plus a coin depth mode and 5 pre-set hunting modes. The advanced LCD graphic screen also makes for quick and easy identification of all targets.
The electronic Pinpoint push button makes pinpointing targets more accurate, just place the search coil on the ground to the side of the suspected location, then press and hold the Pinpoint button while slowly moving your search coil left to right and front to back over the suspected location while maintaining contact with the ground. The maximum sound will be heard when the target is directly beneath the centre of the search coil. A the same time the signal strength will be displayed on the LCD display.
The Garrett Ace 250 metal detector comes with an all new Rhino coil measuring 6.5" x 9" for top performance. It is also extremely light so can be used by all age groups, and is therefore easier to pack for backpacking and travelling. It is easy to use yet incorporates lots of expensive features, a perfect beginners machine though also much more than that! The microprocessor controlled discrimination, sensitivity & depth adjustment is superb with 8 settings. The device is powerd by 4 AA batteries which are included and seem to last forever (actually about 40 hours of mixed use) and it is fairly compact at just 28cm x 56cm x 13cm.
It is easy to see why the Garrett Ace 250 is so popular in the UK, its a very easy to use metal detector, great for people new to the hobby who may get scared off by the steep learning curve with the higher end metal detectors. But also good for those who ar more experienced, plus the machine can easily be upgraded with a larger coil for even better performance if required.
I summary, perfect for beginners and in fact for everyone else bar the professionals, who would need to spend considerably more money to get better performance. Available for around £180, the Ace 250 is highly recommended!