Fisher F2 Metal Detector
Check out our article on the Fisher F2 Metal Detector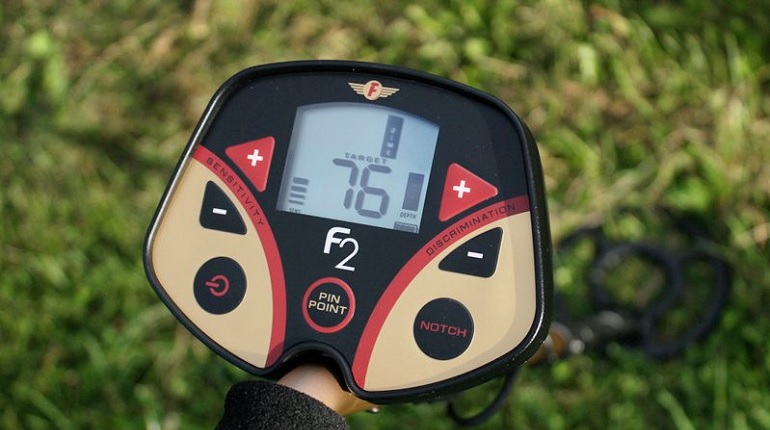 The Fisher F2 Metal Detector is a great entry-level metal detector ideal for novices to try their luck treasure hunting on the beach. This detector uses an 8-segment visual target ID displayed in the centre of the screen, along with a a four-tone audio discrimination system to easily distinguish trash from treasure!
The controls are intuitive and even a complete beginner can be ready to start detecting in minutes. A simple On/Off button with plus and minus buttons on the left adjust the sensitivity. The plus and minus buttons on the right hand side of the control panel are used if you need to adjust the discrimination. The only other button is the Pinpoint. just press and hold this button to enter the all-metal pinpoint and a depth reading is displayed. The F2 is really simple to use and makes an ideal gift for those looking to try this fun hobby.
But the Fisher F2 Metal Detector is a great detector for veteran treasure hunters too. It's lightweight for long days and the 5.9 kHz frequency is perfect for coin shooting, relic hunting, and even gold prospecting. The frequency shift for eliminating electrical interference and crosstalk works well to reduce false alerts to an absolute minimum, aided by the software discrimination feature. The 4-tone audio ID lets you hear target metals allowing you to focus on your feet when traversing rough or muddy terrain; while the easy to read LCD screen features a 2 digit numeric display and can distinguish between metals such as iron, tinfoil and nickel.
The Fisher F2 is waterproof for use in all weather and it weighs just 2.6 pounds including the batteries. There is also a feature called "notch" which is only usually found on more expensive detectors, this feature allows you to reject certain targets from different conductivity ranges, which is great when searching areas such as littered parks where you can reject all alerts from trash and just leave other targets as accepted.
The Fisher F2 Metal Detector does not disappoint and enjoys a well deserved reputation on metal detecting forums. The discrimination is great and it's accurate, pinpoint and depth meter readings are surprisingly accurate, it's easy to use and super light. The batteries seem to last forever and there is plenty of choice in terms of after-market coils and accessories. It's hard to find anything bad to say about the Fisher F2 Detector, the price is reasonable, the performance is excellent and it even looks great!