LawMate RD10 Hidden Camera Detector
Check out our article on the LawMate RD10 Hidden Camera Detector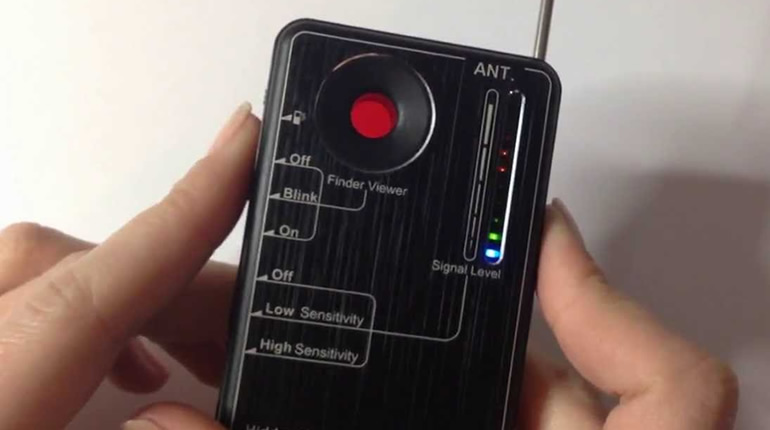 LawMate is well known in the industry for supplying products to organisations like the CIA and the FBI and has a great reputation amongst professionals. This RD10 Hidden Camera Detector offers the ability to perform super fast sweeps for RF bugs in the 20MHz to 6GHz range and also detects hidden cameras whether they are on or off! The RD10 Hidden Camera Detector has a blink camera scanner view finder to find hidden cameras fast plus the ability to detect mobile phone and GPS transmissions too.
The LawMate RD10 Hidden Camera Detector also features a silent pocket vibration mode, full sensitivity adjustment, an RF signal strength meter, and a telescoping antenna. The advanced settings available with the rugged design make the RD10 a favourite for heavy professional use, but this detector is relatively simple to use so is also fine for amateurs. This LawMate detector offers professional capabilities but in a highly portable and light package. Despite the incredible features and well deserved reputation in the security industry, the price is pretty affordable too at just over £100! Not just easy on your budget, this detector is easy to pack or carry too, measuring just 80mm x 52mm x 15mm. The unit is powered by two AAA batteries and the entire device weighs just 40g.
The stand-out feature however is the excellent view finder, this allows you to quickly scan a room and detect any hidden spy cameras, whether the camera is on or off, wired or wireless, the view finder instantly detects any camera lens. On the back side of this detector there is a red LED laser light that flashes intermittently and as you look through the viewfinder, you can see anything that reflects this laser light back at you. So any hidden wired or wireless spy camera, even a tiny pinhole sized camera, will reflect this laser light back to you and be easily located.
For more discreet use, the RD10 from LawMate also offers RF scanning ability with a "Silent Covert Pocket Vibration" mode. So you can simply leave the RD10 in your pocket and get silently alerted by vibration when it detects RF bugs, mobile phone bugging or GPS transmissions eavesdropping on you!
This high quality counter surveillance device is compact yet effective. Refuse to be a victim of malicious electronic eavesdropping and hidden camera surveillance by arming yourself with the amazing LawMate RD10.